Java With Javelyn Indie Music Nite is an event helping to build a small music community in LA and beyond for artists - We're excited to be in our eighth year and host JWJ at Unurban Cafe 3rd Saturdays. Unurban is a chill, cool venue in Santa Monica. We seek to provide an enjoyable, eclectic independent music experience to both sooth and stimulate those coming off their work/stress week. Once in awhile we do special events or take our event on the road, working alongside other promoters and doing such events as Greensberg Kansas Tornado Benefit, MacDayLA, music industry concerts, house concerts and the like.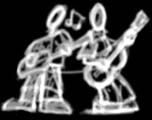 JWJ is an event which helps bring together the new industry of hard-working independent artists, who survive by helping each other out and having a professional attitude when it comes to the business of music and marketing. Out of this event, JWJ has produced four Java With Javelyn Indie Music CD compilations, including our most recent Java With Javelyn Indie Music, Vol. 3. We have had eight songs picked up for films from our recent CD comps, including two this year. Look at our testimonials of success for our current and past CD compilations.
* * * * * * * Java With Javelyn's myspace page - please join us --



MISSION STATEMENT
Java With Javelyn Indie Music Nites ("JWJ") is an indie music event designed to bring independent music and listeners together through live events and annual compilation CDs. At the live events, we create a fun atmosphere where people can relax, know they will consistently have great music, meet people and have a good time. At only $3 admission, JWJ gives back in music, good times and raffles which include merchandise from indie artists, sponsors such as massage, life coaching and acting coaches. Javelyn created the event to bring "community through performance" - not only her own, but to gather the best of the best in the indie music world who are from or travelling through the Los Angeles Area.
JWJ seeks to bring pure, artist-to-artist networking and raise the bar of vision for the new music industry to everyone involved. This year, we are seeking to have spots for artists who follow our guidelines, catch our vision, rewarding them with a place to pay every three months so they can grow as JWJ grows. If an artist chooses to become more active with JWJ, we expect them to have a professional attitude, be available on-line for communications with us and read and follow the guidelines provided on www.javawithjavelyn.com.

...and for the listener... it's a great place to dig up new and upcoming artists and music to add to their private collection - we have added a special "jam" element to our new shows...and who knows, you might go home with a goodie bag full of fun surprises and gifts we raffle with our sponsors each event...Here's to an amazing 2007.

Past artists include: Nick Dastardly, Deborah Crooks, Javelyn, Jack Simmons, Stacy Robin, Bryce Wilson, Ken-Ali, Laura Bradley, Kasey Iaeger, Taylor Begert, Tim Bergstrom, Rusika, Bryce Wilson, Nicole Dieker, Parker Whaler, Raven's Cry, Javelyn, Mr. Wax, Una, Stardust Ramblers, Julia Othmer, Martin Blasick, Jimi Yamagishi, Una, Julie Rayne, Kelly's Lot, Acidic, Ryan Larsen and many more...
Our Sponsors: